Beyond just the immediate response, there is also the need for recovery.  Past the first 72 hours, the victim citizens and small businesses need access to funds, communication, insurance claims, and more. They need the ability to start rebuilding their lives and businesses to get them back in their homes and schools, and have services to address their needs.Mention "critical infrastructure protection" (CIP), and the conversation turns to stories of roads, bridges, buildings, power grid, water, etc.  Talk about "Disaster Preparedness" and prepositioning, and talk turns to ice, food, water, tents, blankets, and first aid.  What seldom surfaces in these discussions, are financial services and identification needs of citizens and small businesses in a disaster – needs for access to funds for living, lodging and transportation to secure what is needed to survive in, or to exit the affected zone. Handing a victim a paper check in a disaster zone where the check cashing centers and bank branches are out of operation is useless, especially if they have no photo ID. Victims need immediate access to funds for essential purchases—funds via a bankcard (AMEX, Discover, MasterCard, Visa) or ATM.  While accessing essential monies is a challenge for anyone in a disaster, for the 60 million[1] underbanked in the US (and 3 billion world wide[2]), if you don't have a transactional bank account, with a bankcard/ATM, this challenge is almost insurmountable, and exponentializes the negative impact of the event, drawing out recovery time.
The CIP around financial systems—and citizens and merchants' access to the card networks that fuel $6 trillion[3] in financial transactions each year, is a whole topic and area of study unto itself, but this briefing will focus on disaster preparedness and recovery for consumers and small businesses related to financial services needs.
Disasters Affect the Local Economy, Especially Small Businesses and Tourism
Financial disaster recovery is critical not just to consumer victims, but also to businesses of all sizes, especially the most vulnerable small businesses.  It's essential to have advance plans in place to bring residents back home, and re-open local businesses as quickly as possible to serve locals and attract essential tourism.
"Direct damage…is only a part of the economic significance of the disasters. The secondary, and potentially more severe, impact of natural disasters is on economic development in the post disaster period."[4]
Disasters are a Regular Occurrence
In the past 10 years, there has been a range of 80 to over 200 insurance designated domestic catastrophes per year.[5] In many of these events, hundreds of victims are left without identification, cash, credit/debit cards, access to insurance support, and other financial services (FS) necessities. This presents a number of challenges, including: personal safety and security, ability to leave the disaster site, increased insurance claims costs, increased time to start on the road to financial and home or business recovery.
Not only does it cause stress, but because power, communications, and financial services facilities have also been affected by the disaster, it takes considerable time and effort to even begin personal financial recovery efforts. This paper is to call attention to this unaddressed challenge, to drive a discussion for preparedness in this area so critical to citizens and small businesses—access to funds, financial transaction tools, and identification.  We need to reduce the response effort in getting funds into victims' hands from days and sometimes weeks to a few hours—to the benefit of the citizens, community, businesses, and government.
Prepositioning of Critical Needs for a Disaster
During fire, hurricane, tornado seasons, etc. assets are prepared and pre-staged in strategic locations to accelerate support with food, water, shelter, medical supplies, etc. However, except for the largest insurance companies' catastrophe teams, there is nothing similar to assist victims in their financial recovery and identification needs.
In natural disasters, there is prepositioning of critical needs to be able to enter the disaster zone as soon as safely possible.  Trucks for food, water, blankets, tents, first aid—all are funded and sit at the ready for when their deployment is necessary.  Budgets are set to assure these basic needs are funded and ready to deploy year round to the areas most likely to be affected by regional disasters (e.g. fires in the West, hurricanes in the South East, earthquakes, floods, tornadoes, etc.).
Basic Need for Consumers and Small Businesses – Immediate Access to Financial Services
But what about another basic human need—and the one that will enable victims to leave the danger zone and get to safer sites to avoid further harm—secure transportation, shelter, clothing and food for their families and employees, and access key infrastructure to start the recovery of their homes and businesses.   How can we empower them with access to the funds and purchasing tools to secure these necessities quickly, safely, with minimized fraud, and a built in accounting system?
When viewing a victim's need for identification, communication, and financial services, it can be captured in a 'circle of recovery.'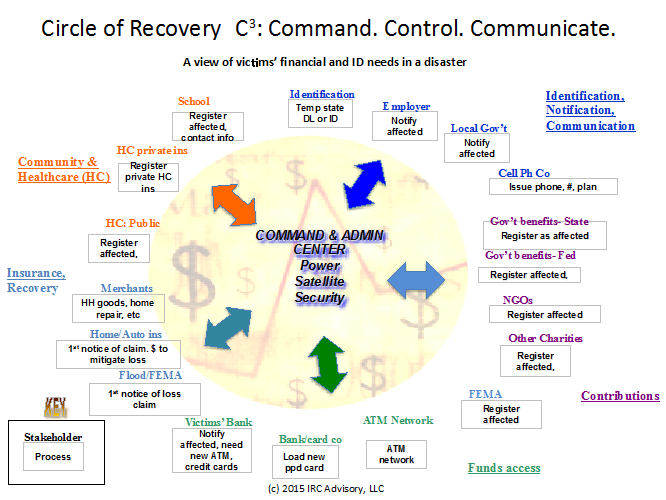 In Katrina, one of the main reasons resident victims refused to leave the disaster zone is that they were waiting for their benefit checks to come in the mail.[6] Many had no bank accounts to cash checks when received, meaning they also had no ATM or bank cards to be able to secure cash and the goods and services they needed to leave and to survive in transit.
As part of a team from a global management consulting firm donating millions in pro bono professional project management, technology and infrastructure work, our team saw a story that was heart breaking.  Ours was the only management consulting team in the then, new technology of prepaid cards. Prepaid is an electronic payment platform, leveraging the existing debit card network infrastructure (AMEX, Discover, MasterCard, Visa) and enabling underbanked (those who didn't have a transactional bank accounts)—to receive deposits, make purchases, access the ATM, etc.
Our team had already worked with one of the largest global NGOs to get their system successfully up and running for dispersals on these new prepaid cards, and we were offering the same pro bono services to a major government disaster group.   However, the help was declined and the news covered what happened—insurrection in the streets as legitimate victims tried to secure their funds, fraudsters tried to make claims, and misuse of disaster funds for sex-change operations and designer purses.
Future View – Preparedness for Disaster – Natural and Man Made
Following this disaster, there was agreement by many stakeholders that "in the future" as a nation we need to be better prepared to empower victims to receive critical funding, and get to safer areas—with funds for transportation, housing, food, etc.  There were discussions of forming a task force to develop the solutions for mobile units that would enable a victim to enter at one end (e.g. truck, tents, etc) with just what was on their person as they fled, and exit the other end with a temporary state issued identification, a prepaid bank card loaded with emergency funds, a cell phone,  some pocket cash, and plans to get to a safe area.
Flash forward 10 years.  We are no better prepared on the financial emergency preparedness front than we were then. However, technology has advanced dramatically and we can now build out a much more secure, robust, fast, accessible solution using the existing prepaid card networks and platforms.  We can also provide charities and foundations seeking to donate, with platforms to deliver funds to the qualified victims, and to receive aggregate program level reports of where their donations were spent (e.g. by category of spend, by geography, etc.).
Financial Emergency Vehicle Response – Mobile Disaster Financial Preparedness
The concept is simple in purpose. The technology to implement this concept is in common use now and is as easily accessed as your debit card. The challenges will be the integration of the requirements of multiple players from Federal and State Government, regulatory agencies, NGO's, financial and insurance institutions, etc. Therefore the majority of the effort will need to go into coordination and program management of requirements and capabilities.
The concept is the development of a financial emergency response plan and use of mobile financial recovery units—currently coined  "Financial Emergency Vehicle Response" (FEVR) that may be prepositioned in (or quickly moved to) strategic locations and coordinated with federal, state and local response operations. Conceptually, victims of disasters, with no Identification or financial records could enter the FEVR at one end and emerge from the other with 9 or more tools: Temporary State ID; Prepaid disaster bank/ATM card ; Registration with FEMA, SBA, Red Cross and other NGO's; funds loaded to prepaid card from disaster relief organizations; pocket cash; emergency financial address/contact database registration; Insurance identification card; and initial claim submission;  basic cell phone communication tool (dumb or smart phone); other financial services needs.
The FEVR units could be a tractor trailer rig (or truck carrying tents to be set up on site) specially designed to accommodate government, NGO, banking, insurance security and technical support personnel and equipment. Such commercial recovery units are available today and would need to be specially outfitted for this mission. A FEVR is envisioned to be equipped with:  electrical generation; security controls; climate management; satellite communications; secure internet communications; appropriate computer, server, and backup capability; instant print ID and prepaid bank/ATM card capability; ATM machine; and more.
Currently this initiative is in Phase 0—initial conceptual planning.  Interest has been expressed by parties representing key pieces of the value chain, but needed are additional volunteer and funding partners to bring expertise and capabilities in the following areas: FEMA national preparedness support; State emergency response management; State DMV/identification; Third party identification services; Mobile Recovery Unit industry; Other Banking and prepaid bank/ATM card services; NGOs; Property casualty (P&C) and personal lines insurance and claims representation.
If you are interested in participating in this discussion, please contact ktrusko@ircadvisory.com
IRC Advisory is a bespoke consultancy, and is part of a network of former Big 6 Management Consultants, CPAs, Regulators, Law Enforcement, Academics, CEOs, CFOs and CIOs. Add to this the access to senior executives, academia, and government – and it's a very unique construct to deliver Big 6 caliber staff and work – faster, more flexibly, and at an exceptional value to our clients – versus our former big firms with bigger overhead and internal politics.
---
[1] "2013 FDIC National Survey of Unbanked and Underbanked Households," Federal Deposit Insurance Corporation, October 2014, https://www.fdic.gov/householdsurvey/2013execsumm.pdf.
[2] Laura Wood, "Research and Markets: Targeting the Unbanked and Underbanked," Reuters, November 22, 2012, http://www.reuters.com/article/idUS99522+22-Nov-2012+BW20121122.
[3] Tim Chen, "Credit Card and Debit Card Transaction Volume Statistics," accessed February 19, 2016, https://www.nerdwallet.com/blog/credit-card-data/credit-card-transaction-volume-statistics/.
[4] Ilan Noy, "The Economic Aftermath of Natural Catastrophes," VOX, September 5, 2012, http://www.voxeu.org/article/economic-consequences-natural-catastrophes.
[5] "Catastrophes: US," Insurance Information Institute, accessed February 19, 2016,  http://www.iii.org/fact-statistic/catastrophes-us.
[6] Bob Faw, "Katrina Exposes New Orleans' Deep Poverty," NBC News, September 1, 2005, http://www.nbcnews.com/id/9163091/ns/nbc_nightly_news_with_brian_williams/t/katrina-exposes-new-orleans-deep-poverty/#.VsddBkDlwfA.